In Bali, we are fortunate to have some of the world's best dive sites. There…

more

Bali Palms Dive Resort offer a full range of diving courses in Bali. Both PADI…

more

Bali Dive Course Prices and Bali Diving Packages. See our range of Dive Courses and…

more
East Bali Bali Dive Sites, Candi Dasa and Accommodation
Candi Dasa is a small fishing village on the east coast of Bali in the Regency of Karangasem. It is a low key, laid back town with an…

Read more

Bali Seascape Beach Club Located in Candi Dasa. Along the fabulous East Bali coastline. The resort is just five minutes stroll from the main street, which are lined…

Read more
Diving in Bali with Bali Palms Dive Resort at Candi Dasa - East Bali
If you are looking for a dive holiday in Bali that encompasses great service, value for money and an unforgettable Bali dive experience, look no further than our spectacular Coral Coast, just 1.5 hours from the airport on the new By Pass. Our Beachside Dive Shop, Bali Palms Dive Resort, is located at the Bali Palms Resort on the Main Street of Jl Candi Dasa just as you enter the small seaside town. Our second base is at Bali Seascape Beach Club at the end of town so we have both ends covered. See: www.balipalmsresort.com or www.baliseascapebeachclub.com
Being in this part of the world means we are blessed with all year round scuba diving and world class Bali dive sites right on our doorstep! Diving with Bali Palms Dive Resort means getting attentive, personal and great service, safe diving, experienced Bali Dive Guides, Dive Masters and Instructors with VIP treatment. We even wash all your gear! We believe a dive holiday is holiday too! So let us do the work while you, our guests have a fantastic Bali dive experience and also a great, relaxing time above water in our Resorts.
Here at Bali Palms Dive Resort, we offer divers customized dive packages that are suited to your needs and experience level. We also offer dive courses from Open Water Diver Course to Divemaster Level. We have our own, fully equipped, twin engine boat ''WOLFY'' and quality air compressor to offer safety and comfort.
After your days diving you may like to sip a cold beer or cocktail at our beach bars or take a meal. We offer overnight stays and dive and stay packages in style and comfort to suit all.
WHY DIVE IN BALI?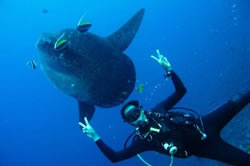 The greatest charm of scuba diving in Bali is its wide range and variety of dive sites. The dive sites in Bali are made up of shipwrecks, steep drop offs, sandy slopes, coral ridges and bommies, volcanic outdrops, roaring currents and quiet seagrass bays. All that with the colourful and diverse marine life (more than 2500!) are reasons why everyone keeps coming back to dive in Bali.
If you wanted to record all the animals you see underwater while diving in Bali, you will probably need to bring a mini library of marine guide books! Just 5 to 10 minutes boat ride away from our dive shop are Gili Mimpang (Shark point) & Gili Tepekong. These bali diving sites are the most reliable dive sites to see white tip reef sharks and the Oceanic Sunfish or Mola Mola (during Aug-October). With its ever changing underwater conditions and currents, you just don't know what you might see here. For the macro lovers and beginners, we have Jepun & Blue Lagoon in Padang Bai (30 minutes by boat) which is a great Bali dive site to spot nudibranches, frogfish, ghost pipefish, manta shrimps, pigmy seahorse which are just a few favourite species of marine life in Bali. Then there is USAT Liberty Shipwreck in Tulamben - the most dived site in Bali which rests at about 30 metres from shore and absolutely crowded with marine live. Photographers adore this site and it's a great night dive spot as well. If you are into "muck" diving which is becoming an ever popular term, perhaps we could venture up northwest of Bali on a dive safari to visit Puri Jati (PJ) and Secret Bay and finish your dive safari at the well known Menjangan Island for some relaxing, beautiful wall dives. As you can see, you are simply spoilt for choices when it comes to diving in Bali!
ABOUT OUR OPERATION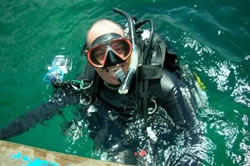 Our dive operation was started by Graeme Birch, who is originally from UK and lived in Australia for ten years before uprooting himself to live in Bali in 2004.  Graeme has been regularly diving since 1993 where he first received his open water certification in the USA. He has always been passionate about diving since and living here in Bali has pretty much reignited that interest. He is now a  PADI & SSI Master Scuba Diver Trainer, living his dream -  a diving career, being his own boss and running his Bali dive operation and a bunch of dedicated and experienced Balinese dive crew.
A GREAT BALI DIVING EXPERIENCE!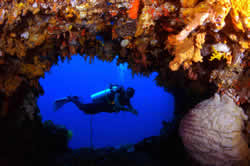 Here at Bali Palms Dive Resort, we offer divers customized dive packages that are suited to your needs and experience level. We also offer dive courses from Open Water Diver Course to Divemaster Level. PADI now offers e-Learning online for their Open Water Diver Course & Advanced Open Water Diver Course. What this means is that you can do the theories online at your own pace and time before heading to the dive shop to do the rest of the course. Simply click here to get to the e-learning page on PADI website or click on the e-learning banner on the side bar of our webpage for more information.
We believe in safe and fun diving! All dives are always supervised by certified and experienced Divemaster and Instructors and our dive crew will ensure you have a fantastic time. We dive in small groups (1 to 4 max) or do 1 to 1 private dives.
At Bali Palms Dive Resort, we focus on our customer, on delivering a great service, giving an unforgettable dive experience and being safe and having fun! What await is VIP treatment and a great Bali diving experience with us.
Diver Certification & Diving Packages We offer SSI Certifications plus a range of diving packages
Bali Dive Courses and Diving Certification in Bali. Bali Palms Dive Resort offer a full range of diving courses in Bali. Let our trained instructors help you achieve the qualification that you…

Bali Dive Course Prices and Bali Diving Packages. See our range of Dive Courses and Pricing plus our Bali Dive Packages. We have daily diving options and some packages that…