Bali Dive Courses and Diving Certification in Bali. Bali Palms Dive Resort offer a full range of diving courses in Bali. Let our trained instructors help you achieve the qualification that you are looking for.
OUR DIVE COURSES
Discover Scuba Diving
Not sure about diving? Discover Scuba Diving program would than be the best way for you to find out! Under the supervision of an instructor, you will be taught some basic skills and concept in the pool before you head off for a shallow dive in the sea. (Up to 12 meters!) To participate in this program you just need to be 10 years old and just curious enough to want to find out if this is for you!
Open Water Diver
This course takes 3 to 4 days. It is divided into 3 segments: knowledge development, confined water training and 4 open water dives. After completing the exam, you will receive your international certification which is recognized world-wide. Anyone in good health, reasonably fit and comfortable in the water can do this course.
Advanced Open Water
After the Open Water Diver certification, you can continue to improve your skills and knowledge by taking up the Advanced Open Water Diver certification. This certification requires you complete a Deep dive & Underwater Navigation dive. To complete the course, you will need to choose 3 other adventure dives such as a Night dive, a Multi-Level diver or a Wreck dive.
Specialty Diver
We offer the following courses:
Wreck Diver
Nitrox Diver
Deep Diver
Night Diver
Multi-Level Diver
Peak Performance Buoyancy

Emergency First Response
The Emergency First response program covers basic training for cardiopulmonary resuscitation (CPR) and emergency care. In addition, it's a medically based program that covers primary care, secondary care and treatments following national consensus and guidelines. The use of Auto External Defibrillation and Oxygen Units are optional skills offered in this program as well. This program is designed for divers AND non-divers!
Rescue Diver
The Rescue Diver program develops your knowledge and skills so you can effectively perform diver assists and rescues, manage diving accident situations and render first aid. This program is an important step in expanding your knowledge and experience as a diver. Rescue Diver (or equivalent) certification is also a pre-requisite for all leadership programs.
Master Scuba Diver
This is the highest level you can get as a non professional diver. To qualify for this certification, you need to have completed the following:
Rescue Diver
50 Logged Dives
5 Specialty Dives
Achieving this is like getting the "black-belt" in diving!
Divemaster
This course is the first step into professional & leadership level with the system. This certification allows you to do the following:
Organize, conduct and supervise recreational diving activities, both land & sea based
Assist instructors in conducting diver program
SSI DIVE COURSES
Open Water Diver & Scuba Diver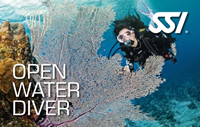 Becoming an SSI Open Water Diver is the best way to start your scuba adventure! We make sure you are truly comfortable with the skills and equipment you will use. Getting started is easy! Sign up for an Open Water course or get your feet wet with the SSI Scuba Diver program. SSI Training is designed so you can learn the academics at your own pace when it is convenient for you. We will support you by colored manuals, DVDs and free Online Training offers to make sure you have enough training options. For your pool and open water training your instructor will fit you to your scuba equipment so you will become comfortable in your "second skin." You will get enough practice time to adapt yourself to the underwater environment before you start with your open water training dives.
Once you have completed your initial training you will be a certified SSI Diver. SSI certification is recognized world wide so your diving experiences will be limitless. hort on time? Get your scuba diving certification started while on vacation and finish up when you get home! Scuba Diver is the perfect course for those who do not have time to complete an entire Open Water Diver Program. The content of this program represents about half of a complete scuba diving certification program (SSI Open Water). You can then complete the second half and become a certified diver at another time, anywhere that is convenient for you.
This program allows you to get out there and experience diving to the fullest. You will be trained in the proper skills, knowledge, equipment and experience required to feel safe and confident during your open water dives, as well as have an SSI Instructor as your escort to guide you on your adventures. Certified Scuba Divers are entitled to go diving under the direct supervision of a Dive Leader up to a maximum depth of 40 feet/12 metres. When you decide to complete your certification, the Scuba Diver Program can be fully credited to your course. This way you will not have to redo any part of the program twice. After a short skill update you can complete your Open Water Diver rating. At the end of the program you will receive your SCUBA DIVER Certificate indicating the successful completion of this program. This certificate entitles you to take part in guided dives all over the world.
Give Advanced Training a Test Drive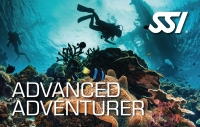 SSI's Advanced Adventurer program was created so you can try out a variety of specialty courses before you commit to completing a full course. It's a great way to experience what advanced training is all about and how valuable it can be to your diving adventures. During the Advanced Adventurer Program you will have the chance to try out 5 different specialties. You will complete one open water training dive per specialty and if you decide to take a full course in any of the specialties you tried, the dive you took can be applied to your advanced certification.
Specialty Diver
To earn the certification for Specialty Diver, you must complete 2 specialty courses and have completed a total of 12 dives. This is higher than any other agency's advanced courses.
Diver Stress & Rescue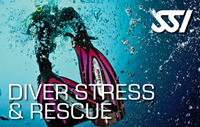 "Be prepared for those unexpected emergencies!" - Stress is a major contributor to rescue situations and diving accidents. Through this course you will learn accident prevention, as well as how to handle problem situations if they occur. The program is about avoiding, recognizing and solving problems on the surface and underwater. The course runs two - four days in which you will participate in academic and in-water sessions in the pool and in the open water. As a prerequisite for certification you need to have a valid CPR & First Aid certificate. If you want to learn more about DIVER STRESS & RESCUE, you can buy the manual or the DVD even if you don't want to sign up for the course. Includes the following content:
What Is Stress?
Stress In Diving: Causes And Prevention
Detecting And Dealing With Stress
Accident Management
Skills Needed To Deal With Panic And Rescues
Conditions That Complicate Rescues
The primary goal of any SSI Specialty course is to teach you important skills in a fun environment. All courses are taught using home study, short academic sessions, and in-water training.
Advanced Open Water Diver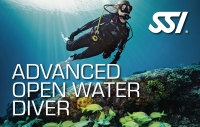 SSI's Advanced Diver rating stands alone in the industry with the highest combination of diving knowledge and experience. No other agency's advanced diver level compares. To earn the certification for Advanced Open Water Diver, you must complete 4 specialty courses and have completed a total of 24 dives.
Master Diver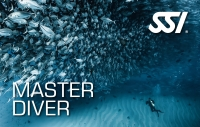 SSI's Master Diver rating is one of the most elite ratings in diving today. Divers that have completed this level have combined the knowledge, skills and experience to truly call themselves Master Divers. To earn the certification for Master Diver, you must complete 5 specialty courses and have completed a total of 50 dives.
Dive Guide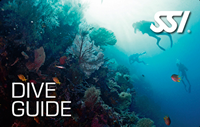 The Dive Guide program approaches training using practical application, background information and flexibility. The goal is to create well-prepared, versatile and marketable Dive Professionals. SSI Dive Guides can lead and guide certified divers. Additionally, after passing the Snorkeling Instructor program, a Dive Guide can teach and issue Snorkeling certifications.
Divemaster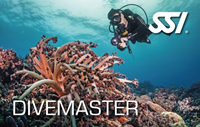 Dive MasterDive Guide plus the Science of Diving Specialty program equals Divemaster. Divemasters can perform Try Scuba's (pool only) and assist SSI Instructors with pool/confined water and open water training under direct supervision.