In Bali, we are fortunate to have some of the world's best dive sites. There is indeed a dive site for everyone in Bali! We have the macro lovers who would re-visit the Blue Lagoon over and over again for the Nudibranches, the Pigmy Seahorse, Ghostpipe Fish. Muck dives lover and photographers would enjoy taking their time at shallow, sandy bottoms of Puri Jati (PJ) and Secret Bay searching for critters inside a plastic can or bag or buried in the sand. We then have those who fancy the beautiful coral slope, abundance of sea life at Gili Tepekong & Gili Mimpang. The wall dive is fantastic at the drop off at Tulamben. And then there is the all time favourite, the 120 metre long USS liberty wreck, home to an abundant of sea life, which rest at the sandy bottom of Tulamben, just 40 metres from shore.
In Bali, there are easy dives for novice divers and there are also dives sites for more experienced divers, where the conditions can vary quite dramatically. The water temperature is typically 27 Degree Celsius and do drop to 20 Degree Celsius during the July to October period.
At each dive sites you can find a good variety of healthy hard and soft corals and each site has its own rare species of fish. Mola Mola (Oceanic Sunfish), Manta Ray, Whitetip Reef Shark, Wobbegong, Bumphead Parrot Fish, Napoleon Wrasse and Tuna are the big fish we see here. The smaller animals that attract much attention are the Frog Fish, Leaf Scorpion Fish, Nudibranches, Ghost Pipe Fish and the Pigmy Sea Horse. The Spanish Dancer is the favourite of many amongst the other animals during the night dives at Blue Lagoon or Tulamben.
The season of Mola Mola (Oceanic Sunfish) which Bali is renowned for is between August to October. It looks something dated back to the Jurassic period! It's a gentle giant that is sighted at "their" cleaning stations at Gili Mimpang / Tepekong, Nusa Lembongan and Nusa Penida during that 3-month period each year. This pelagic visitor is a harmless giant that feeds on bigger planktons such as jellyfish, salps, small crustaceans and fishes.
Video clip a Mola Mola taken by a guest with his digital camera at Gili Tepekong at about 28 metres!
Our Dive Sites in Bali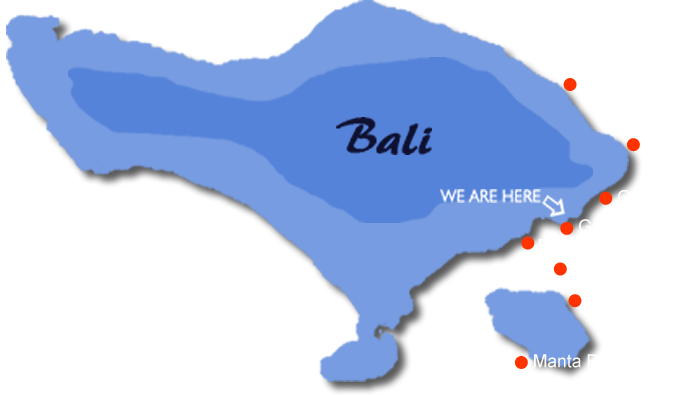 Amed is suitable for all levels of divers. The drop goes down to 40 meters. The wall is fully covered with soft coral and an abundance of tropical fish. It takes about 40 minutes to drive…

Read more

The dive site is located just off Padang Bai which is 20 minutes by car from the dive shop and just 5 to 10 minutes by boat. The dive site starts from 4 metres and slopes…

Read more

Also known as the Shark Cave. This dive site 20 minutes by boat from our beach. This is a small island with reef slopes and deep walls. The cave is at a depth of 10 to…

Read more
Also known as the Shark Point. This dive site is a group of three little islands just about a kilometre north west of Tepekong. It is five minutes by boat from our beach here and the fish life…

Read more

Also known as the Secret Garden. Gili Tepekong is a small island just 10 minutes boat ride away. The site is covered with variety of hard and soft corals and breathtaking sea-fans on the vertical walls.…

Read more

The best place to see beautiful Manta Rays, beautiful corals and an abundance of fish of all varieties. This is a highly recommended dive site where the chance to see Manta's is considered one of the…

Read more
You can almost guarantee a current here on most dives; From mild to very strong depending on the moon. The water is always colder here. Because of these water conditions, the visibility is fantastic, the corals…

Read more